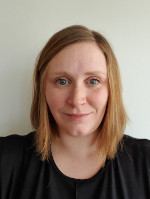 Laura is the senior children's asthma practitioner for North-East London, seconded from Barts Health where she is tertiary CNS for paediatric asthma. Laura qualified as a children's nurse in 2010 from the University of Southampton. Her background was urgent and emergency paediatric care before specialising in asthma in 2016.
Laura has worked across primary, secondary and tertiary asthma care, having established several asthma services in very different settings including the Children & Young People's Health Partnership in South London & the BHRUT service in North-East London. She is passionate about supported self-management, education and accessible information for children, young people and their grown-ups. Working in these diverse and deprived areas, she has learned a great deal around service mapping, collaborative working, risk profiling and engaging difficult-to-reach families.
Laura is a member of the Asthma + Lung UK innovators' network, is a course tutor for Rotherham Respiratory's Advancing Paediatric Asthma Care course, and regularly writes for primary care and community pharmacy publications. She is also a published childrens' author and illustrates in her free time - occasionally the two worlds collide; she is working on a series of stories around asthma and often illustrates for her leaflets!
Laura joined NPRANG in 2016, the education sub-committee in 2021, and is one of the newest committee members, having been accepted in 2022.