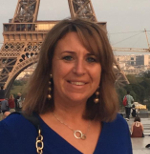 Emma has been a registered Children's Nurse for the past 23 years, after qualifying from Nottingham University in 1996.
She worked on a busy medical ward for 15 years caring for children with complex and acute respiratory conditions.
Her passion, experience and enthusiasm led her to her current role. She started in her current role in 2012 as a Respiratory Nurse at Sheffield Children's Hospital. Over the past few years she has seen the Respiratory team develop and how the service has expanded.
She has undertaken various Respiratory related courses and more recently completed her ARTP training.
She is the lead Nurse for Transition and has presented the team's Transition work at The European Respiratory Society Conference in Paris. She previously won first prize in the poster competition at the NPRANG conference on her work regarding transition and presented at the conference.
Her current role involves running nurse-led clinics for transition patients and works closely with the adult services to ensure the adolescents have an effective and safe transition process. She has been instrumental in setting up Transition events within her trust. She also undertakes nurse-led asthma clinics and ward reviews and undertakes home visits.
She has been a member of NPRANG for the past eight years. In November 2019 she joined the NPRANG committee and feels very privileged to be a part of a wonderful organisation. She is very much looking forward to working with the committee and its members.