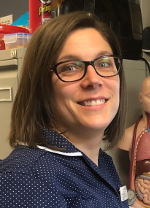 Emma
Bushell
Paediatric Respiratory Nurse Specialist (Asthma)
Emma qualified as a children's nurse in 1998 and worked in general paediatrics before identifying her love of critical care medicine; specifically paediatric respiratory. Emma spent 14 years working within a tertiary care PICU where she obtained her acute skills in autonomous management and treatment of level 3 ventilated patients. Emma was an active member of the Children's Retrieval Team (CATS) in North Thames for over 10 years.
In 2015 Emma was successfully recruited as a senior nurse for a new children's respiratory service for East Berkshire, based at Wexham Park Hospital. During her time in the service Emma has completed her Spirometry training and qualification with ARTP, completed her non-medical prescribing and is now the lead nurse for a developing team.
Emma and her team won the Nursing Times Award in 2017 for Respiratory Nursing – The Asthma Bus.
Emma is one of the newer members of the National Paediatric Respiratory and Allergy Nurses Group (NPRANG), she is one of the founding members of Integrated Network for Severe Asthma Nurses (INSAN) set up in 2018.
Emma recently started her MSc – Advanced Clinical Practice - Child.