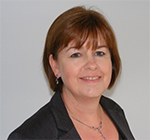 Viv
Marsh
Social Media & Respiratory Competencies
Paediatric Asthma Nurse Specialist, Dudley Respiratory Group
Viv qualified as an RGN in 1991 and as an RSCN in 1993 and since then has worked in acute paediatrics, school nursing, specialist nursing and clinical education. In her current NHS role Viv works with the Dudley Respiratory Group supporting the development of integrated services and standards for paediatric asthma care.  Alongside educational and leadership activities, Viv works part time in primary care diagnosing, reviewing and managing patients with asthma.
Viv also works as a facilitation coordinator on a research program for the University of Edinburgh. The program is a randomised control trial is looking at supported self-management of asthma in primary care and Viv works with the research team and GP practices to implement the research strategy.
Viv has a number of additional professional interests including roles on the editorial board for a nursing journal and the committee for the National Paediatric Respiratory and Allergy Nurses Group (NPRANG), writing for publication and membership of the Asthma UK Council for Health Professionals.