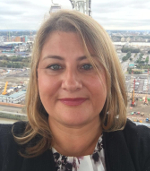 Ann
McMurray
Vice Chair & Website Manager
Asthma Nurse Specialist, RHSC Edinburgh
Ann is an Asthma Nurse Specialist at the Royal Hospital for Sick Children in Edinburgh. Ann qualified originally as a general nurse in 1993 and then as a children's nurse in 1995. She has worked as an asthma nurse specialist for the last 18 years. More recently Ann has been on secondment as a PhD candidate at the University of Edinburgh/ AUKCAR working on a study entitled Parent and Patient perspective of fatal and near fatal asthma - a qualitative study.
Ann is a member of the faculty for the Scottish Allergy and Respiratory Academy (SARA) and regularly contributes to other training events in Scotland. She is actively involved with the Asthma UK Centre for Applied Research (AUKCAR) as a collaborator and is interested in Patient Public Involvement (PPI) especially working with the young people's group, @speakasthma. She is a committee member of the research and education group within ARNS.
Ann has written for publication and is also a peer reviewer for medical and nursing journals. Ann has been an active member of the NPRANG community for many years and became Chair in November 2018.